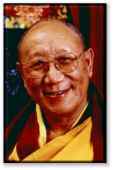 Khensur Lobsang Thubten Rinpoche was born in 1925 in a region of eastern Tibet (Kham) known as the birthplace of many leading contemporary lamas. Rinpoche became a monk at the age of 7 and entered Sera Je Monastery in Lhasa at the age of 18.

In 1959, Rinpoche followed His Holiness the Dalai Lama into exile in India. He continued his monastic studies, attaining his Lharampa geshe degree, the highest degree in the Tibetan system, under extremely challenging conditions in addition to assisting in the planning of the new monasteries being set up in South India.

Rinpoche is an accomplished meditator having completed the three-and-a half year Great Retreat of the Vajrayogini deity. He is a highly respected scholar having been invited by the Dalai Lama to give the oral transmission of the complete Tibetan canon, the Kangyur to an assembly of monks in Dharamsala, an event which occurs only about once a generation and over a period of six months. His title, "Kangyurwa" is a reflection of this great honour. His ability as an administrator is reflected in His Holiness' personal selection of Rinpoche to become the abbot of Sera-Je Monastery in South India.

For the last decade, Rinpoche has, upon the invitation of Lama Zopa Rinpoche, served as the resident geshe of Buddha House in Adelaide, Australia.